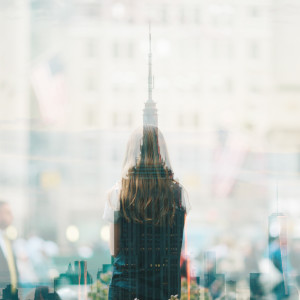 Over the past couple years, daydreaming about graduate school was becoming a frequent occurrence. I would brainstorm through the 3 or 4 topics that I wanted to study, and spend time researching programs, professors, costs, etc, I even bought some vocabulary flash cards to help prepare for the GRE. I knew I wanted to continue my education, but I just couldn't seem to answer how, when or where with any confidence. I continued to tell myself that it wasn't the right time or 'maybe I'll just figure it out later' and of course the busyness of life kept diverting my attention.
Then, about 6 months ago on a seemingly average morning, I discovered a school that was surprisingly everything I had been looking for. It would not only allow you to design your education, but also give you the freedom to choose where and with who. The more I looked into it, I couldn't stop thinking about it. I wanted to apply immediately.
Through a series of steps (having to be nominated, being invited to apply, applying, a video introduction and an interview) I've been officially accepted into Experience Institute's Class of 2016.
There have been a lot of questions from friends and family and so I'm writing to answer them…
---
What is Experience Institute?
Experience Institute is a 12-month program where students design their own education through apprenticeships, projects, coaching and classes.
The year is divided into trimesters that are comprised of MEETUPS and CURRICULUM. Students leave Experience Institute with a professional network, unique hands-on experiences, creative confidence, and a deep understanding of five core competencies:
1. Self-Awareness
2. Storytelling
3. Operations
4. Community Building
5. Design Thinking

"Ei establishes experience as a credible form of education and equips students with the tools necessary to transform our world.
Through apprenticeships, self-guided projects, meetups, and coaching, Ei creates a space within higher education that helps individuals build creative confidence, agency, and a compelling portfolio."
---
What are you going to be studying?
As a graphic/visual designer today, I mostly focus on how something looks or feels – It's a natural gift of mine. Over the next year, I'd like to focus on expanding my skills to learn how to design effective products, strategies & experiences.
Here are some of the areas I have interest in exploring:
Design Management, Creative Direction & Consulting
Strategic Design
Product Development

User Experience (UX) / User Research

Communication Strategies & Logistics
You can read more about these here.
"Investing in the design process can be a sustainable business advantage, because it tends to lead to five things: creative collaboration, innovation, differentiation, simplification, and customer experience." – Thomas Lockwood
---
What is a 'Meetup'?
Ei Meetups take place in Chicago, Illinois. Each day is a combination of interactive classes led by industry professionals, along with projects and experiences around the city.
During these Meetups, students will also connect with Ei companies to explore how they may fit as an apprentice over the course of the year.
---
What are the Apprenticeships?
*It's not a traditional internship
Throughout the twelve-month program, students gain opportunities to design a season of learning alongside Ei Host Companies and it's network of brilliant individuals. Ei's community help students combine their passions and skills while building a body of work.
*Meetups & Apprenticeships are what make up our "classes".
Click Here to View Ei's Host Companies and Connectors
WE DOCUMENT EACH EXPERIENCE
With the Ei community and the other students, we have an audience interested to hear and learn about what's happening. We will be documenting each step of the apprenticeship through a combination of video, photography, blog posts, newsletters and other creative outlets.
WE PRESENT OUR WORK
After each experience, we'll be challenged to present our stories using various mediums. At the end of the year, each student will create a final project that embodies their year of experience. Graduation, EXPO, gathers together friends, family and future employers to celebrate the growth and lessons from the year.
---
Where is Experience Institute?
The location is dictated by the apprenticeships. Meetups and graduation are in Chicago, but otherwise the students determine their location.
---
Who are you going to Apprentice with?
I'll let you know, when I know…

---
Who is Coaching you?
Ei Coaches are hand-picked for their experience taking leaps of their own and for the manner they've pursued excellence in their industry. They spend time supporting a small cohort of Ei students throughout the year, helping them navigate and mine their experiences for meaningful learnings.
---
What is your goal at the end of this?
My goal is to become more of the person that I was designed to be. I want to produce work that is successful, influential and lasting. By focusing on my skills & giftings, I look forward to building a broader network, an improved portfolio and a new found confidence.
However, this question usually has an underlying intention of, "but, will you get a job? or where will you be living? how does this all play out?"
Trust me, I wish I knew.
I'm a planner to my core and to leave these questions unanswered is not something I'm used to….but I'm okay with it because I trust that it's something lovely and I can't wait to see what's ahead.
---
Let me know if you have any other questions.
If you want to read more about Experience Institute, go here: http://expinstitute.com
If you want to follow my journey, just come back here every so often: www.morganbortz.com
In the mean time… I'm packing up my apartment and trying to fit it in my car. I'll be on the road to Chicago at the end of August.
---